One of the most common misconceptions about display customization among engineers and procurement team members is custom displays cost more. But the opposite is most often true.
Here's why.
A lower system-level cost can often be achieved with a custom display because off-the-shelf displays typically include components unnecessary for the specific application. With a standard off-the-shelf display, you just get what's available. A standard display may also be larger than required. Combine that with sub-optimal display integration into the end product, and it's fairly easy to understand where costs mount up. Some of the best examples of standard display integration problems creating added cost are incompatible mounting features, the locations and types of connectors and cable lengths. These and other factors will cause increased BOM (bill-of-materials) costs as well as increased assembly costs.
Additionally, custom designs can incorporate supplementary components on the display such as LEDs, buttons, or ICs, to name a few. This eliminates intermediate PCBs, as well as streamlining system assembly, resulting in reduced overall assembly costs when taking a customized approach. Most of the time, the small up-front investment in customization results in lower BOM, lower assembly costs and due to optimal component integration, a more reliable system.
Lastly, a custom or semi-custom approach offers an end product focused solution. Standard products may already be very close to what's required. Whenever you're starting to develop a display for a new custom application, always look at standard components first. But more often is it beneficial to the usability of the end product to have the optimal display designed in, rather than settling for the predetermined attributes of a standard product. And in allotting product configurations, the requirements are unique such that a standard product would never fully support the end application.
Let's look at some of the most often desired customization options.
Glass Size
With a custom approach a larger more expensive glass size isn't being used. Neither is implementing a smaller glass size which underutilized the real-estate potential being considered. There are two options to consider -- start with the customer's maximum viewing area available, and then design the most efficient glass size to support that viewing area. However, the reverse process also works, where the application has a maximum mechanical envelope and the glass size decision is in favor of the largest active area (AA) or viewing area (VA) possible. Aside from the fixed cost of the LCD driver IC (integrated circuit), the module cost is generally proportional to the glass size. For TFT (thin-film transistor) it's more economical to stay with one of the standard glass sizes available. For monochrome the tooling and minimum order quantity is low enough to support creating the optimal configuration for each application.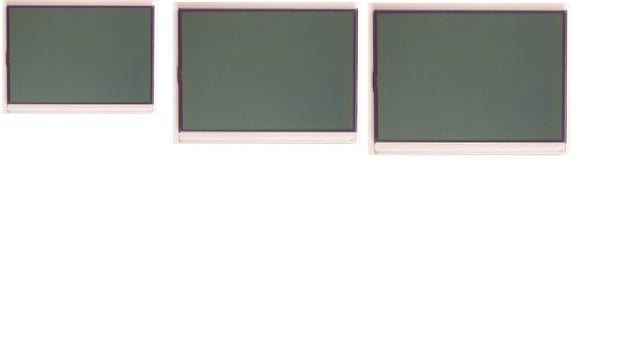 Resolution
Decisions about this option should start with the display content required in the end product, and then specify the optimal resolution. For TFT it's more economical to stay with one of the standard glass resolutions available. For monochrome applications, the tooling and minimum order quantity (MOQ) is low enough to support creating the optimal configuration for each application. But more isn't necessarily better. Human vision is the gating factor. High resolution for small displays becomes unreadable at a distance for the vision-impaired. Additionally, as you go below 0.200 pitch on a monochrome display, reduced contrast occurs.
Custom Icons
This allows the design of complex, high-resolution pixel elements which can greatly increase display usability. Custom icons can often enable the design to allow a basic twisted pneumatic (TN) display instead of super twisted pneumatic (STN) glass, resulting in increased contrast combined with a lower cost.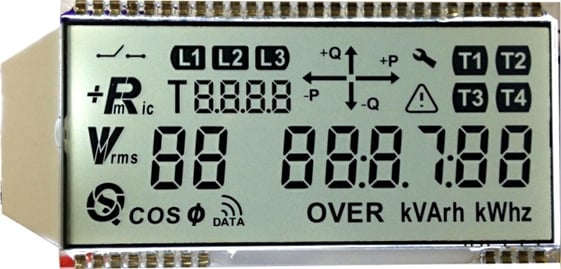 Sunlight Readability
Sunlight readability increases the range of outdoor conditions when the display remains usable. Outdoor applications generally benefit from this. Monochrome simply uses transflective polarizers. TFT transflective applications are rare, expensive and have an extremely high risk of obsolescence. Effective performance in direct sunlight is a problem for the transmissive TFT cell. But any color TFT display can be made sunlight-readable through backlight and polarizing surface enhancements.
For a deeper dive on this topic, go to our sunlight readable display article.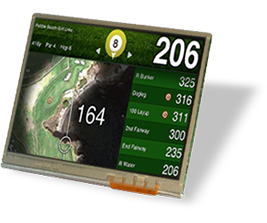 Backlight Brightness
This option is easily addressable whether requiring sunlight readability or for the display to pop with an improved backlight performance. Customization can handle either need. Also consider the possible option of optical bonding the touch panel or cover glass for increased brightness with reduced glare.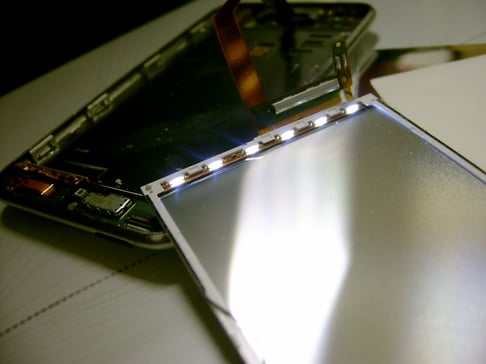 Anti-Glare
Anti-glare, anti-reflection and anti-finger print surface treatments are available for applications in sunlit, high ambient light environments, and where the LCD or touch panel surface is touched extensively.
ESD Protection
This implements a variety of methods to distribute and/or absorb the electro static discharge (ESD) energy, enabling the LCD display to handle higher ESD thresholds. The method for this is developed for each specific design. The ESD optimized display is designed to protect the LCD driver IC circuit and the LCD glass cell while providing a superior ground path for the ESD charge.
Custom Electrical Interface
With this option, the electronics are specifically tailored for an existing product or for a new design. This allows optimally integrating the display module for the specific application. It often involves eliminating unnecessary devices found in off-the-shelf units. Solutions also come from leveraging components from other high-volume programs, using a custom PCB assembly, special push buttons or connectors. This can reduce customers' display costs from both design simplification and streamlining the assembly process.
Custom Mechanical Interface
Custom overlays, including custom shapes to fit the customer's product as well as custom overlay graphics, may all be specified for added value. Additional buttons, custom metal frames and bezels may be created. The result is a display completely matching existing or new product requirements while solving all of the typical display related problems. In many cases the result is a cost-effective solution that exceeded the customer's fit, form and function design requirements.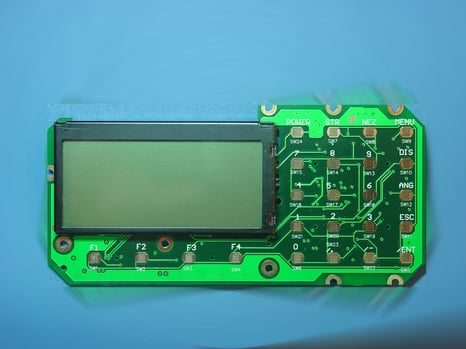 Touch Panel
This is rapidly becoming one of the most common human/machine interfaces. Not all displays are touch panel-equipped. But a panel can be designed for each application.
The most common options are:
- 4 wire, 5 wire, or capacitive
- Tailored surface treatments, glare, fingerprint, hardness
- Oversized style for ease of mounting
- Silkscreened artwork on touch panel perimeter (see illustration)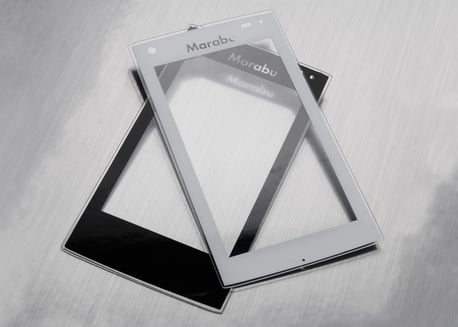 Drop Test
LCD's are made of glass and thus can break. The system design approach is drop-testing, where the display and customers' end product work together to minimize any stress concentration points. It's desirable to work through design iterations with a testing process which develops the most robust design possible, where the display and product work together for the necessary durability and ruggedness. There are also strengthened glass options for greater impact resistance.
Reliability
This option helps prepare displays for more severe, real-world applications. Depending on the kinds of environments in which the display will be used, the modules environmental limitations may be enhanced. This includes engineering for wider operating or storage temperature ranges. It can include temperature range cycling, accelerated aging, vibration testing, and extended backlight life. Specifying these options all help increase the mean-time-between-failures (MTBF), thus boosting product reliability.
Environmental
Customized display fluids for low temperature applications are another option. One example is instrumentation used in snowmobiles. Additionally, fluids may need to perform in above average high and low operating and storage temperatures or survive the effects of accelerated aging from extreme temperature and humidity exposure.
Conclusion
Overall system level cost is often lower with a custom LCD display approach. What's essential when considering replacement display requirements is applying the customizable LCD display technology to perfectly matching customers' end product needs. Whether your business requirements are addressing the consumer, industrial, medical, military, communications or test & measurement sectors, consider the option of customizing the display for your next application. Your product will be a bigger winner for it.
Image by Frank Mc Guigan via Flickr CC